First. I know this post is beyond late. I've been working like crazy since getting home and this is literally the first free moment I've had to write a post about anything.
This year I did it a bit differently than last year, I took a friend of mine down with me because he is thinking about getting his product into the marketing world we live in and away from the traditional outlets he's currently using. It was cool to have someone to share expenses with too.
We got our trip booked up the day before Christmas for a pretty good rate, I think it was like 580$ Canadian, after tax for Jan 16 – 22nd. I think we were a little drunk when we ordered the tickets though because we didn't realize our trip back had 3 stops – oh well, that's what you get for being cheap. Who needs first class when I had 1500$ left to spend in Vegas instead eh!
This year was funny I probably took more photos of our trips through the airports than I did of most of vegas and the show – I have a couple, but they're on other peoples real cameras since I only had my mobile with me for picture taking.
Lets start with this monstrosity, it was something my buddy ordered at the Fox Sports Bar at the Detroit Airport. Whats funny is, his beer was nearly double the cost of all this sickening food. And we wonder why both our countries have problems with obesity!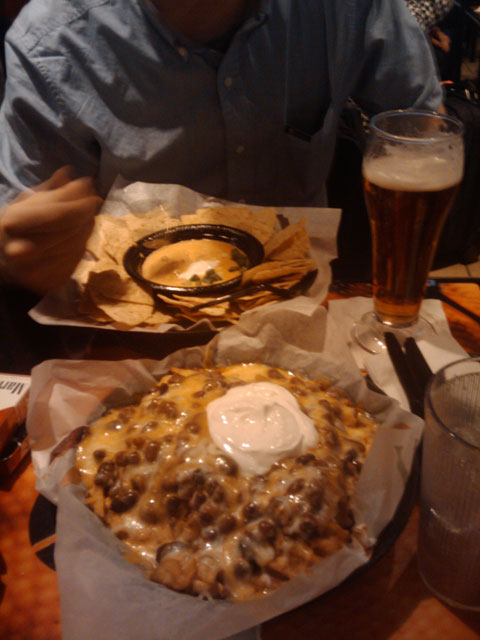 He did manage to eat most of it. I didn't touch it. I'm against everything Fox especially their food.
There was also this wicked tunnel at the airport. I was saying that it'd be rad to hold a flashmob down there for 3 minutes and then all run to get onto a flight somewhere. Sadly it's behind security, but check this shit out – the lights and music are all in sync and everything!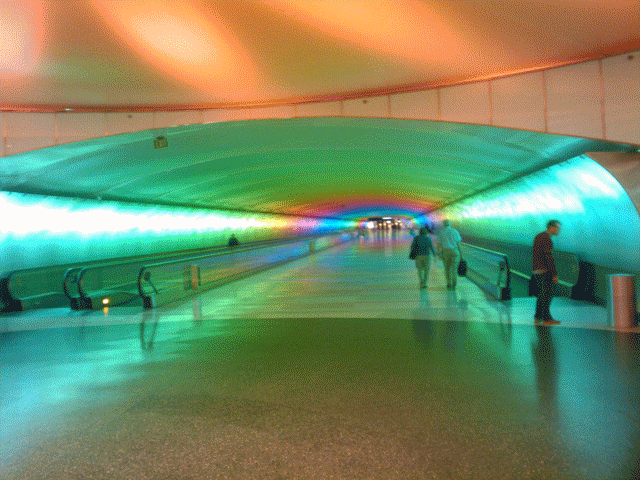 After being mesmerized by the tunnel a few times we went to another bar and chilled and then went to another and chilled and then finally it was time for our flight to Las Vegas. 4 Hour flight nothing special. I wasn't used to American airlines or Continental, they didn't have TV's in the seats and they were super oldschool compared to what I'm used to from Air Canada.
We eventually got to Vegas after an uneventful flight and went to our hotel. Then we went to Meet up with BofU, Brentdev, Enigmabomb and Russell P for an evening of drinking and walking around the strip. Went home to sleep after that. Later that day met up with MattF too, there's always a soft-spot for other canucks in the scene.
Took these the next day outside the conference, the only sunny day we had!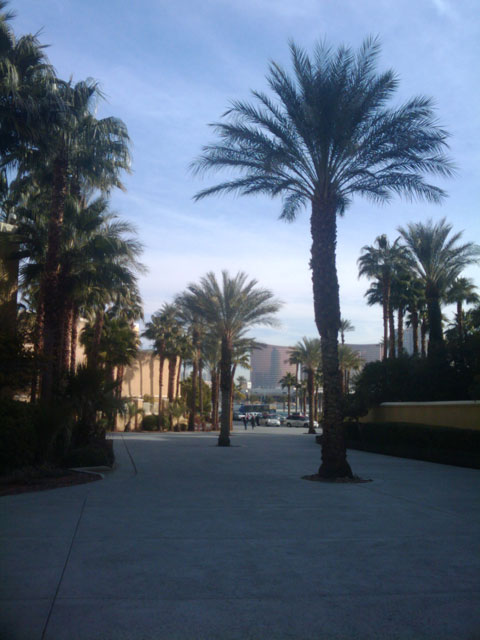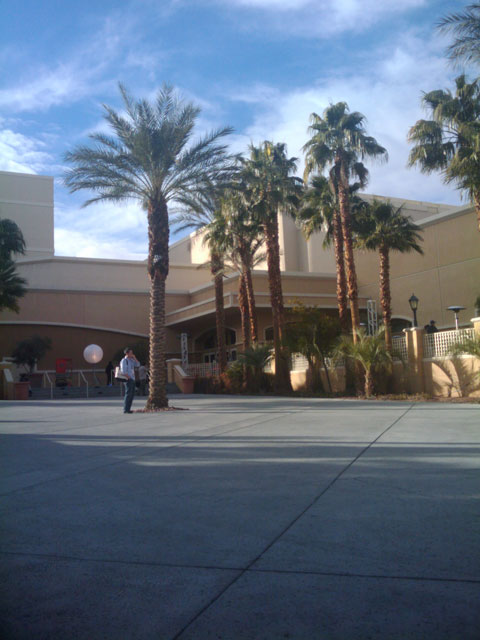 and the rest of the days looked something like this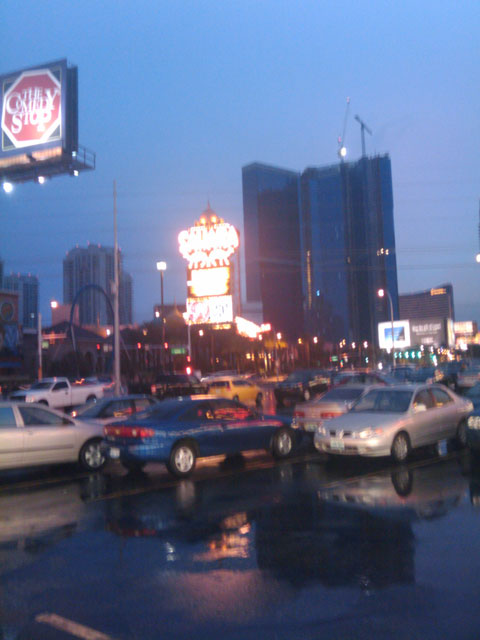 But that's okay cause we got to go to exclusive parties at in the Palms Towers later the next evening to stay out of the rain. Some crazy shit went down there, and I learned a new term "Making It Rain", very interesting indeed.Thanks again to Gigidawg for getting us in. Also met up with Ian from Opes Media that night for a bit, always great to see old friends. Later on we met up with the Off White Hat for some drunken gambling with his friend Duncan the Architect/Photographer.
This was the view from the party, sorry I was shaky, it was an open bar. Very open.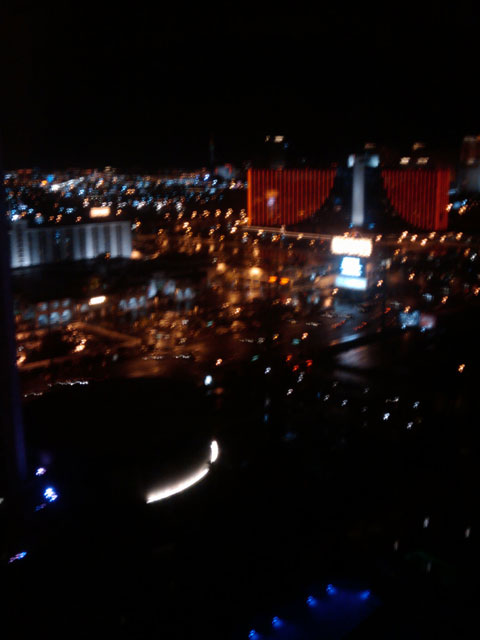 That big red building is the Rio, where Affiliate Summit West was held. Cool.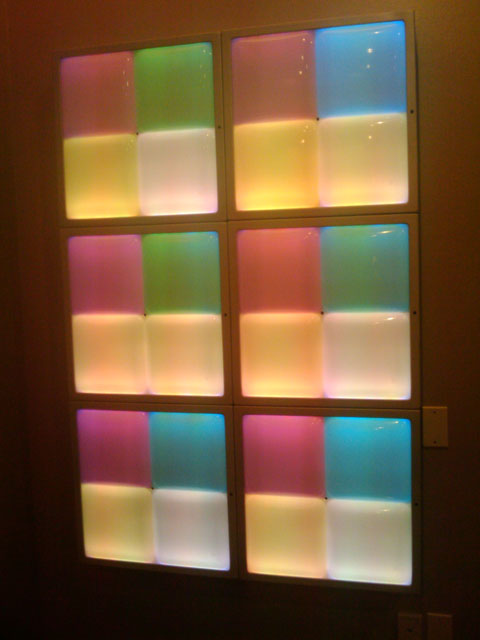 Some cool LED Lights 🙂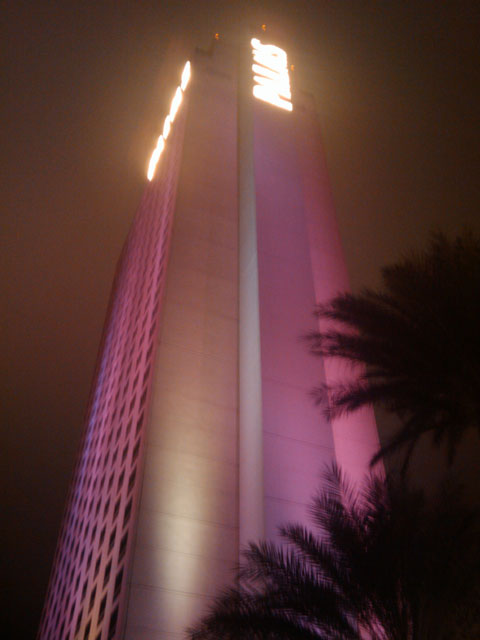 That's looking up the palms tower where the party was at.
Then we went home to nap for more partying later.
Where Brentdev, Enigmabomb, myself and my buddy chatted up some girls from Ireland. Fun times. Bitches still haven't friended us on facebook yet, wtf!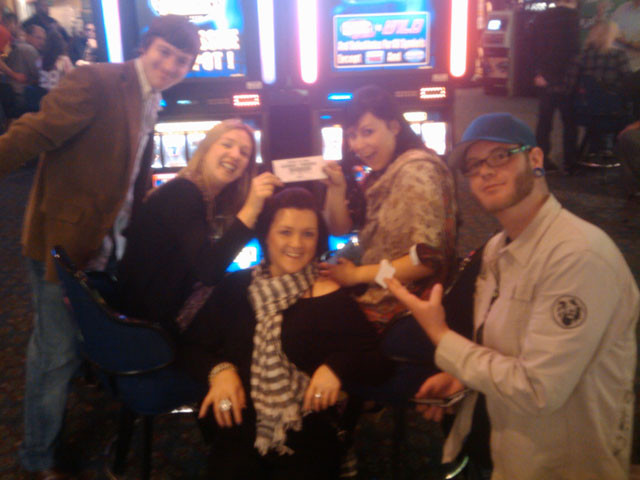 I don't know what that paper is, maybe my phone number? haha.
wtf is this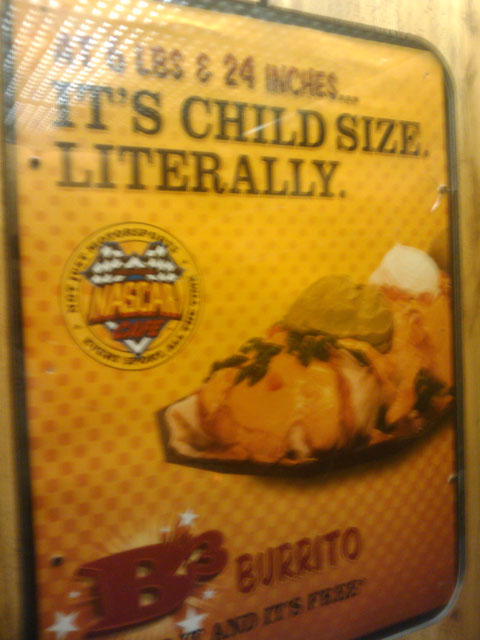 6 pound burrito? gross. GROSS.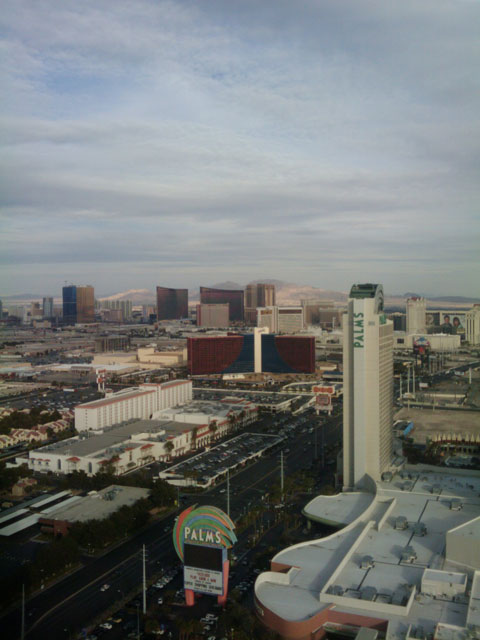 view from Jeff of Equte's and Sam of CompeteSEO hotel room. There's the other Palms tower and the Rio in the day time. I don't really like heights I couldn't get closer than a foot to the balcony up here haha.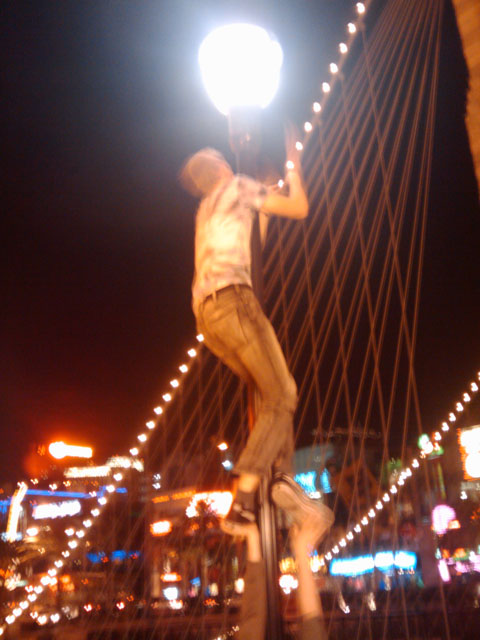 I was promoting a new venture with stickers around Vegas and we met these crazy fools from New Zealand. This guy climbed a light for me to stick one of the stickers up. Thanks Jeremy!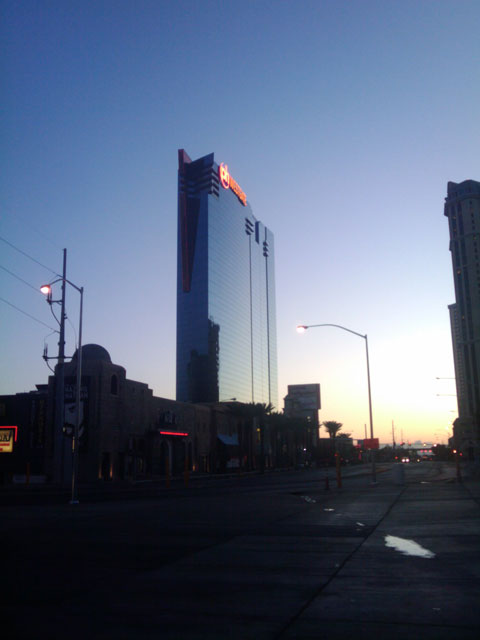 Taken early morning, drunk stumbling around Vegas. I like the composition.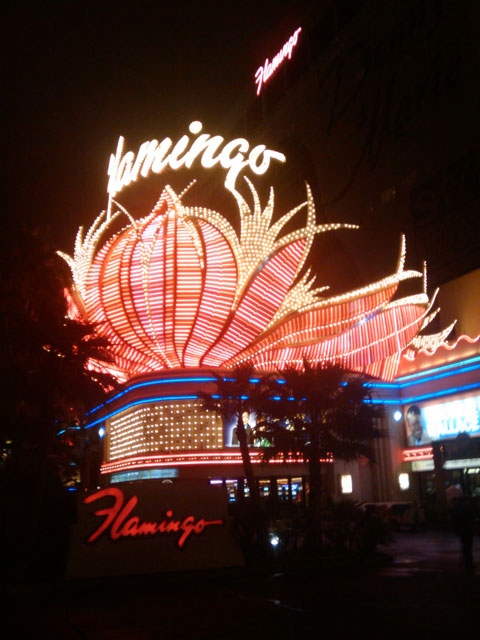 Cool picture of the Flamingo. I like their marquee, it's cold chillin oldschool flava.
The infamous AKMG skateboard Fiasco that Brentter, Myself, @phillian and Sam were involved in. Thanks Eleah you guys are pretty cool!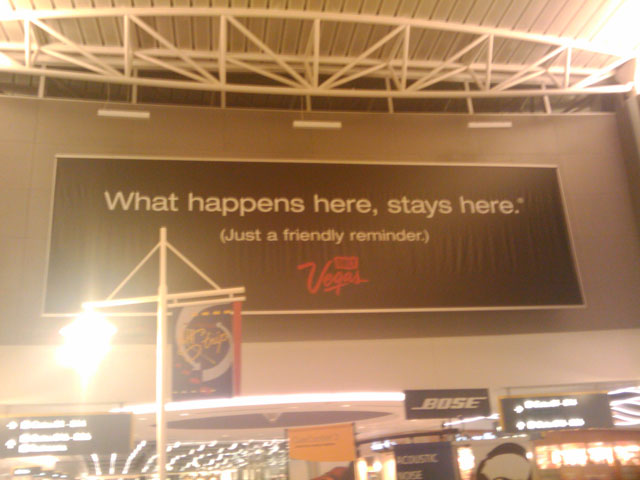 And finally. Let's not forget the most important rule.
So that's all the pictures I took that I can show you, but it gives you a different perspective of what these conferences are also about besides the bling bling and showboating lifestyle, it's also about friends, seeing the sights, networking with associates on a more personal level and just generally having a blast.
Later today I'll write up an actual informative post about my thoughts on ASW 2010 Las Vegas this year.
Comments
Comment by Amanda on 2010-02-03 08:15:29 -0500
Seriously- that tunnel was amazing! Detroit's airport, in general, is actually super nice. Almost makes you wish you had time to check out the town. Almost. It's misleading that way.
That AKMG skateboard thing is priceless. Thanks for the laugh Brent! Too bad your biz card and your pass didn't match. And that you got a skateboard anyway.
Ah good times.
Comment by Matt on 2010-02-03 08:19:20 -0500
Yeah, that's so true about their airport. I actually liked it a lot, and I've been to quite a few airports, haha. Cleavland has something similar, but no fancy lights or anything, so wasn't worth photographing.
Comment by Bofu2U on 2010-02-03 16:42:59 -0500
Epic trip. That is all.
Comment by Woody on 2010-02-08 06:23:50 -0500
lol @ "child size, literally" looks like a good trip