As mentioned before I launched and ran my second campaign a little while ago. I'm just now getting around to posting an update about how it went. Which by all standards was much more successful than the last campaign but still not profitable. I won't be disclosing which niche I was trying because I plan to give it a shot again with what I've learned from this attempt.
Let's get down to it.
I started out with around a $225 budget to run with, and again I was only using YSM for this campaign, I did not branch out with BING or Google or Adbrite this time, but next time I think I will try expanding out to BING to see what kind of results I see from there. YSM is kind of weird, and so far I'm not a very big fan of their interface, so using the ad Center desktop app will probably be a refreshing change.
I ran this campaign back in September for about 11 days (there were two days where my CC wasn't charged so I wasn't running the full 9 days though).
As you can see compared to my previous campaign test, which was in a different niche, this one worked much better. However, the CTR was much less – I think this was due to my bid price, and the placement of the ads, which we'll get to later.

I spent $202.88 over the 11 day period, and had nearly 72,000 impressions. Not bad considering I wasn't using the content network at all and only search. Speaking of this, this is something else I might try next time is using banners and the content network instead of text links and search. We'll have to see I guess.
This time around, I was using some demographic targeting along with my regular bids.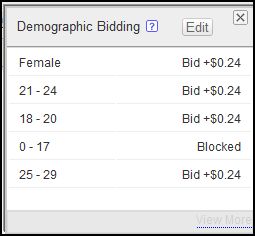 So, if I understand this correctly I was bidding a max of $1.00 for any keyword, but if it was female 21-29 I was paying up to $1.24 for each click. I don't know if this really helps much or not as I'm still learning how the bids work and how to turn everything to my favor, but as you'll see later I think this was beneficial to this campaign.
I didn't bother to set any geographic options because the offers I was running were compatible with both the US and Canada. I was however only marketing to these two countries, but that doesn't cause an increase in the bid price, only if I wanted to bid higher for the states or Canada.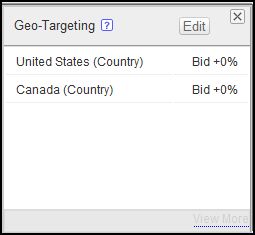 As you can see from the following graph I had about 297 clicks over the campaign period, with an average CPC of $0.68, not bad but I should have been around the $0.28-0.32 to bring the campaign really profitable. I just didn't have the funds to extend the campaign this long.
Now to the good part.
Even though my CTR was much lower with this one and my impressions much higher – I made three sales this time. This means I made $120. I was only $80 (2 sales) away from bringing this campaign profitable. Not bad for my second attempt.
What I did for this campaign was a little different than the last campaign I tested out. This time I created many more ads, and keywords – I also used Market Samurai to get keyword suggestions instead of doing it by hand – saved a lot of time. This time I also used keyword targeting within the ads, which I didn't do last time and I also had the content network turned off from the start of the campaign.
Overall Campaign Stats.
Spend: $202.88
Sales: 3
Sales Amount: $120.00
Clicks: 297
Impressions: 71,551
Keywords: 588
Ads: 12
Ads Using Keyword Targeting: 7
Now, this is not entirely accurate because I was watching this campaign like a hawk. Every time Yahoo would update their stats I would login to pause keywords or change the ads around. I ended up with the following changes.
588 Keywords Initially, Paused 210 of them throughout campaign
Started with 12 ads, ended with only 1 un-paused.
Why did I only run one ad in the end? Because it was performing really well and it seemed to be getting the most clicks, as well as the cheapest clicks. I probably should have created a few more ads here and ran tests on them, but money ran out so I couldn't do that with this test. Next time I will.
This time I also ran with 2 landing pages to begin with, then after 100 clicks to each one, I switched around the strongest performing page, and created three separate versions with different offers on each page to gauge offer success. Because I ran out of money sooner rather than later, I was not able to fully test the 3 identical landing pages as much as I wanted, oh well.
What did I learn?
Overall – much more than last time.
This time, I already had the knowledge of my first campaign so I knew to have the content network off, I also was aware of keyword targeting in the ads this time, which I didn't know about before and really helped with the clicks and impressions. I also knew to insert a bunch of keywords into the list, instead of just 20 or so – this let the ads show up with things I wouldn't have thought of. In fact, all three of the sales came in off keywords I never would have expected, or thought of so it just goes to show when testing, insert a shitload of keywords to test with.
As a side effect of having a bunch of keywords, when testing a campaign like this you also are able to take those keywords and use them in article marketing, or blogs and even running ad sense you know you will be getting high click value off those keywords if the ads are targeted appropriately.
Another important thing I learned during this campaign was that Yahoo will go in and charge your credit card every day even if you're not running ads. They base this on your average spends. I had to call them up and get them to switch my account to manually insert funds; apparently there is no option to switch this in "my version of the interface" whatever that means.
Overall this has inspired me much more, even though I didn't obtain a profit, I was much closer and have increased my knowledge two-fold, next I'll be testing all this out on YSM content network and BING to see what kind of differences I see.
I hope this has inspired you to just to get shit done and try out a campaign.
Comments
Comment by Casey on 2009-10-19 09:24:58 -0500
You need more data. Don't stop, you could definitely make this profitable.
Comment by groomez on 2009-11-18 08:38:25 -0500
Yeah more data +1. Cash flow is the always the ball buster