NOTE THIS SOFTWARE IS NO LONGER AVAILABLE
We're finally ready to announce the full release of Guide Site Builder – our amazing new software for quickly and easily producing "Guide" sites and landing pages for the purpose of collecting demographic and marketing information. Guide Site Builder takes the chore of coding and designing guide site templates, images and content and packages it in an easy-to-use software that can produce a full-fledged website in minutes – allowing you to focus your time on actually marketing to your prospects instead of building or outsourcing websites.
The purpose of Guide Site Builder is simple. Guide Site Builder takes your e-book, marketing collateral, recipe list, lyric set, real estate listings or any other document you can produce and creates a website and landing page that requires an interested user to input their contact details before being automatically forwarded to the download page for the document. Guide Site Builder is designed to be used by anyone, no matter your technical skill or ability. Guide Site Builder requires you to know very little about web or graphic design; as long as you can type up the content you want on your site, you will be able to make use of Guide Site Builder.
For example, a realtor can use Guide Site Builder to quickly make a website that has local real estate listings in a Word document file for interested prospects to download. Once they have inputted their details such as name, address, phone number and email, our realtor has a new prospect that they can follow up with to close a sale, and the user gains access to the document of local real estate listings.
Or, a financial services sales representative can use Guide Site Builder to quickly and easily build a landing page to promote their e-book "The Top Five Tips for Saving for Your Retirement". When users get directed to this page, they must input their contact details before being able to download the Five Tips document. Our financial services sales rep can then download the database of interested prospects daily, and follow up to close sales or perhaps add them to his weekly newsletter to continually market to.
Once the user enters their data on the site, it is stored in an industry-standard comma-separated values or CSV file which can then be imported into virtually any spreadsheet program (such as Excel), mail merge program, or email marketing service such as AWeber, Mailchimp, ExactTarget and more.

The web sites created by the Guide Site Builder software are clean, search engine friendly and very quick to load into the user's web browser. Guide Site Builder comes with a variety of templates in a range of colours, and allows you to customize the content on the page in any way you'd like, including titles, text, pictures, and more.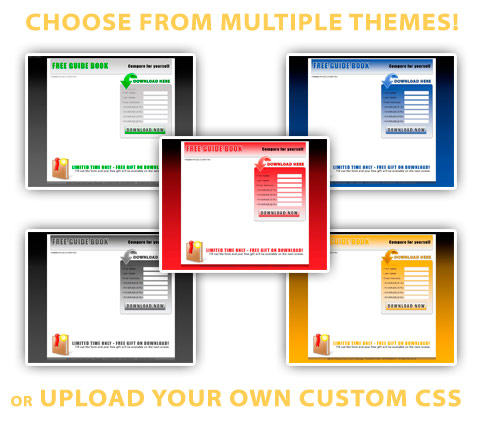 Guide Site Builder is compatible with any modern version of the Microsoft Windows operating system, including those based on Windows XP and Windows Vista, and requires the free Microsoft .NET Framework to operate.
Guide Site Builder can be purchased and downloaded online in minutes from our website at http://www.guidesitebuilder.com. This website also has contact details – please feel free to contact us should you require assistance or have further questions.
We look forward to your feedback on Guide Site Builder!