Serves: 3
Time to make: 1-2 Hours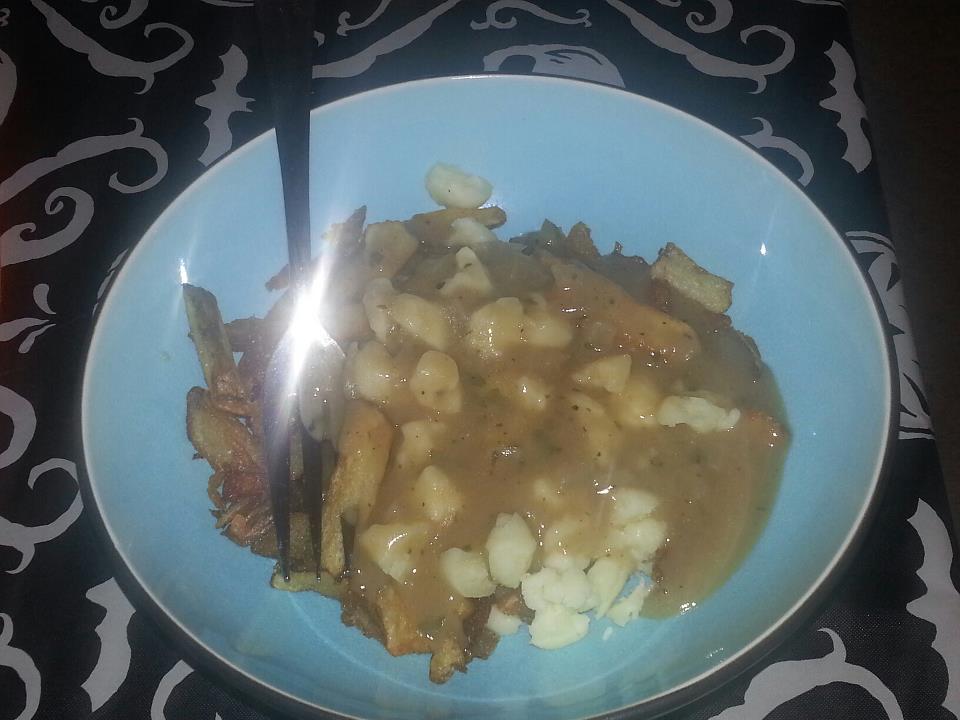 WHAT YOU WILL NEED
3 X-Large White Idaho Potatoes
1.5 Cups White Sugar
10 Cups Water
3 TBSP Flour
3 TBSP Salted Butter
1/2 of Small Spanish Onion Finely Chopped
1 TBSP Freshly Ground Black Pepper
3 Cups Beef Stock
1.5-2 Cups Cheddar Cheese Curds
Large Bottle of Vegetable Oil
1 TSP Salt
1 TBSP Fresh or Dried Parsley Flakes
6 Pieces of Bacon (If wanted)
1 TBSP Maple Syrop (If wanted)
---
HOW TO DO THINGS
---
Combine Butter, Pepper, Onion and Flour in small saucepan over medium heat. Cook for approximately 15 minutes.
In large pot combine sugar with 10 cups of water, bring to boil.
Wash and then cut up potatoes into fry size pieces, leaving the skins on.
Add frys to boiling sugar water, cook for approximately 15 minutes or until soft.
For a little variation, you can cook some bacon until crisp. Break into small pieces and add maple syrop and leave to sit in a bowl.
Add beef stock to butter and flour mixture and bring to boil. Continue boiling for approximately 10 minutes. Reduce heat on gravy and let sit over low heat to thicken up. Stirring occasionally. If required, add a little bit more flour to thicken up gravy, use only small amounts at a time.
Add oil to deep pot and heat on high heat. Be careful!
Remove frys from boiling water, and place on paper towels to dry out completely.
Once oil is super hot, place frys in oil and cook until floating and golden brown.
While frys are frying, break up cheese curds into small pieces.
Add parsley flakes to gravy and stir in.
Remove frys from oil and place on paper towel and shake some salt over them.
---
HOW TO SERVE
---
Place layer of fries on plate
Place thin layer of cheese curds on top of frys
Ladle out some gravy over your cheese and frys
Place a second layer of fries on plate
Add more cheese curds, and optionally bacon pieces, then more gravy to top off the plate.
Garnish with fresh pepper and salt.