Last night I decided to once and for all figure out how to Midi Sync Traktor and Kaossilator Pro. I had been reading all over the Internet about how to do it, and the general consensus is it's just not possible.
Well. That's simply not true.
It only took me 6 or 7 hours of playing around to figure it out, and it's the simplest solution ever. I don't know why nobody else has written this down for others, but here it is.
Notes:
I'm doing this using a Mac, with the latest Kaossilator Drivers, and the Latest Traktor 2 update. I did test with the 2.0.x series of Traktor and it also works, so this could be a workaround for everyone else experiencing midi sync issues with Traktor and the Kaossilator.
Requirements:
Traktor (2.0.1, 2.0.2, 2.0.3, or 2.2.x)
Kaossilator Pro plugged in via USB
Setup in Traktor:
Turn on the Kaossilator so Traktor will see it later.

Load up traktor and go to the preferences

Go to the controller manager screen.

Click on 'Add'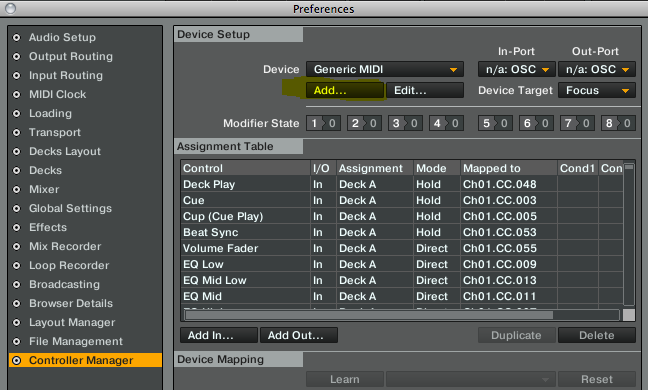 Add a 'Generic Midi' device

Now click on 'Edit'

Go down to 'Edit Comment'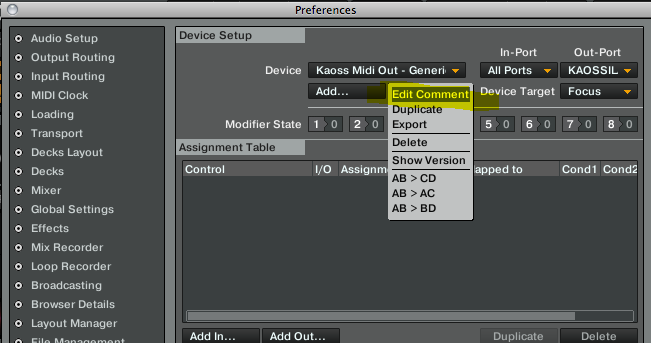 In the popup that appears, type in something that makes sense. I went with 'Kaoss Midi'

Now click 'ok'

Go to the 'In-port' dropdown, and make sure 'None' is selected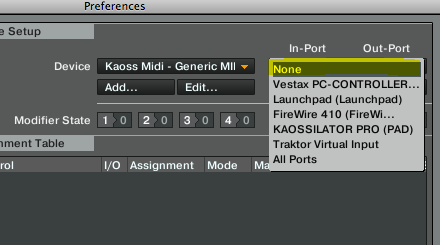 Go to the 'Out-Port' dropdown, and make sure 'Kaossilator Pro' is selected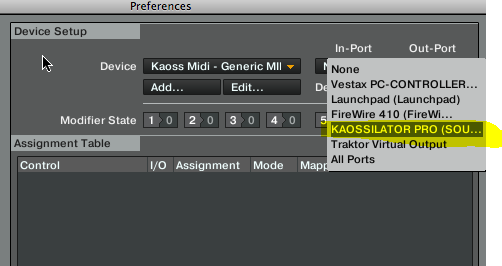 Go to the Midi Clock settings in the traktor configuration window

Make sure 'Send Midi Clock' is checked to on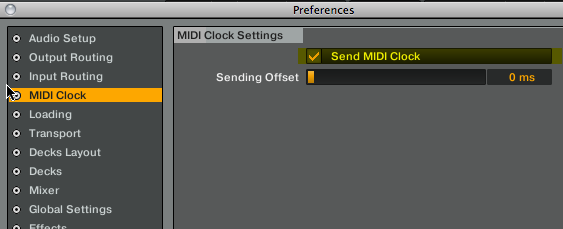 Now close the Traktor Configuration Window

Go to the Clock settings for traktor in the top left of Traktor

Make sure you turn on sync, and that 'auto' is selected.

That's it for Traktor
Kaossilator Setup:
Press the 'Shift' button, and 'Midi' at the same time (button 4)
The knob will display 'FILTR' press down on the BPM selection button to select it
Scroll left or right until you see 'CLOCK' and press the BPM button to select it
Change the Clock setting from 'INT' to 'AUTO'
Hit the 'write' button to save your changes.
You may want to save 'ALL' your settings on the Kaossilator so they will be loaded again. Ask me in the comments or read your manual to learn how to do this.
That's it, you're done!
Now, when you play a track in traktor, you will see that if you press down on the BPM selection button on your Kaossilator Pro that the display says 'EXT' meaning it's receiving it's BPM from traktor directly.
You now have a synched Traktor and Kaossilator Pro. Have fun!!!
Comments
Comment by Eddie Henriquez on 2011-12-05 17:45:49 -0500
Your info is great but when I try to play kaossilator I'm not getting any sound
Out what I did wrong.
Comment by Matt G on 2011-12-05 17:55:06 -0500
Hmm.
Do you have the volume knobs up on your kaossilator? Also what sound card are you running it through – for me it's on the Maudio Firewire 410, so I adjusted the volume on that, and muted the output on it. Then in traktor I hear the kaossilator – also make sure that your cross fader is set properly – with this tutorial you'll only hear it when the crossfader is on the right, or, in the middle, if you move it all the way to the opposing side, that deck will be 'off'.