I'm back with another case study. As you may remember from my previous ppc case study, I was working with just Yahoo for that campaign. With this new ppc campaign I instead went with Bing, Yahoo and Bidvertiser because I had a bit more money to drop on this test and wanted more data across the networks.
Note that these numbers are from November 2009 through Jan 2010, and I'm still working on this campaign so I still won't be telling y'all what I'm actually running with. Look for a new case study coming up in the next few weeks or months. Probably months knowing my slackass style.
For this campaign I ran things a little differently. If you remember from my last post, what I did was have about 600 keywords spread out over a few ads in one ad group. This time though I did it differently and set things with a new method. I went with;
20 ad groups
each ad group having 1 keyword
3 ads based around those keywords.
I ran with this formula on Bing and Yahoo, but with bidvertiser I just ran with the highest performing ads from the two networks combined with some simple math to calculate which was the overall best ad.
So, on to the numbers shall we?
BIDVERTISER
With Bidvertiser, as with all my previous attempts with them I had horrible click through's with relatively high impressions. I know some people love bidvertiser, but I just haven't figured it out yet. I probably won't try much more with them till I'm baller like some of you guys and can afford to throw away money 🙂
Bidvertiser Spend: 12.54
Bidvertiser CPC: $0.96
Bidvertiser Impressions: 75,291
Bidvertiser Clicks: 13
Bidvertiser Sales: 0

YAHOO
As with the last campaign, I started out with Yahoo, and then once I started getting traffic and clicks I paused the underperforming groups and migrated the performing ones to Bing and Bidvertiser. I did see one sale, so I made some of my investment back on this one, but not nearly as much as I had hoped, especially with my highly targeted ad groups, and ads per ad group. I am still confident in yahoo though because I had relatively high impressions over this amount of time, however my CPC was way high, I wished it would get down to what BING was doing, but apparently not.
YAHOO Spend: $156.92
YAHOO CPC: $0.71
YAHOO Impressions: 37,193
YAHOO Clicks: 220
YAHOO Sales: 1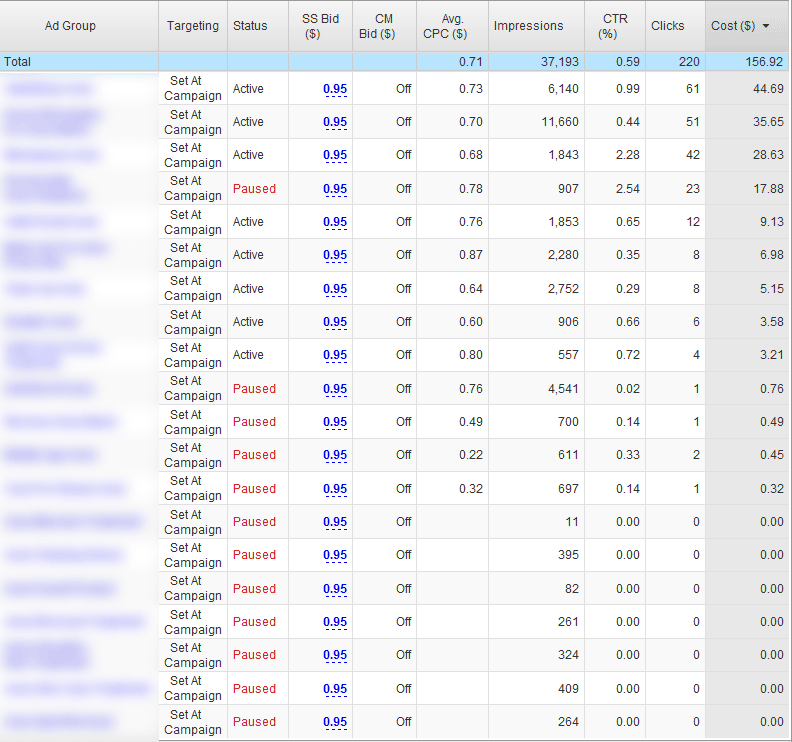 BING
This was hands down my best experience ever with PPC. I had 3 sales getting me around $144 before removing my initial investment of $2.12. This is simply awesome. I don't know why it dried up but I will be going back and revamping the campaign to hit BING with again because I haven't seen sales like this ever before, especially with limited impressions and very limited clicks. Fucking awesome.
BING Spend: $2.12
BING CPC: $0.30
BING Impressions: 198
BING Clicks: 7
BING Sales: 3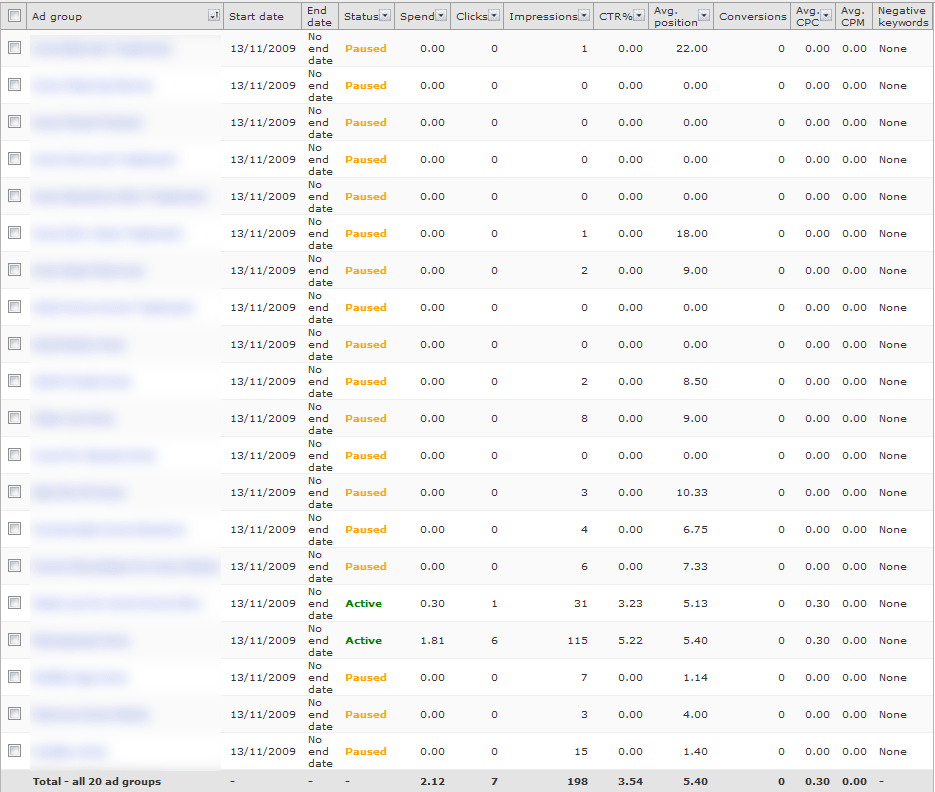 SUMMARY
So let's total it all up.
Total Spend across all networks: $171.58
Total Impressions across all networks: 112,682
Total Clicks across all networks: 240
Total Sales across all networks: 4
Total Commission amount: $192
Total Profit: $20.42
As you can see, I was profitable. Not very much, but I was profitable. So, this campaign was definitely a win for a PPC newbie like me. If you remember last time, I was still 80$ shy of actually turning a profit, so even $1 would be a win for me at this point.
What have I learned off this one? Bing apparently fucking rocks, or I just hit the right market at the right time – I guess we'll see on the next test. I do think I'll drop bidvertiser indefinitely and probably yahoo too since my spend was so high compared to Bing. Yahoo, nothing much, same old shit – I just need to refine my process with them, and probably develop more ads along the way – I just ran out of money to keep testing.
Now on to more testing.
Comments
Comment by Mikeaff on 2010-03-11 11:36:30 -0500
Damn those bing results are awesome!! I am going to have to give bing a shot.
Comment by Mike Chiasson on 2010-03-11 11:54:49 -0500
Wow that was an awesome turn around on Bing. Good work with the campaign! I really have to get around to trying out Bing one of these days.
Comment by PPV Coaching + AffPortal for One Price! on 2010-03-12 21:24:21 -0500
Hey thanks for posting this up. Have you tried doing Bing first then Yahoo? Or why did you choose Yahoo first?
Comment by PPC Icon on 2010-03-14 14:56:35 -0500
Hey thanks for sharing your results!
Comment by Matt on 2010-03-15 04:23:49 -0500
I just had tried yahoo the first time, so thought I should try more this time. I'm sure my results are totally atypical and it was a total fluke, but it's still promising to see stuff like this.
Comment by Niche Marketing Strategy on 2010-05-28 14:59:24 -0500
I love these PPC case studies, and Bing surprised me a little bit. Biggest problem is getting traffic from these sites compared to Adwords.
Comment by Methods For Internet Marketing on 2011-06-16 02:07:13 -0500
I appreciate this case study even though the game has changed the theory remains the same… TAKE ACTION