So, as many of you know I've been in the game since around November 2008. I was total newb back then, and didn't even know what things like scrubbing, or scraping or p202 meant. There was a lot of learning to be done, and a helluva lot of reading from the Gay Webmaster Forum over at wickedfire.
I've been in the game since around 2001, but not as an AM. I've been mainly running Adsense across my small network, and placing some bought ads from a handful of clients across my sites, not to mention Text Link Ads.
This wasn't cutting it. I was only making around $500 a month. Not good enough.
Then it dawned on me.
"Just Fucking Do it".
Yup. That's really all there is to it. Stop over thinking things, stop planning for every minute little detail, and just jump in and try some shit out.
So, over the past few days, I've been working like a madman trying to launch my first REAL PPC campaign.
First, I drew out a fancy little diagram of exactly how I wanted everything to work. Click on it for a bigger version.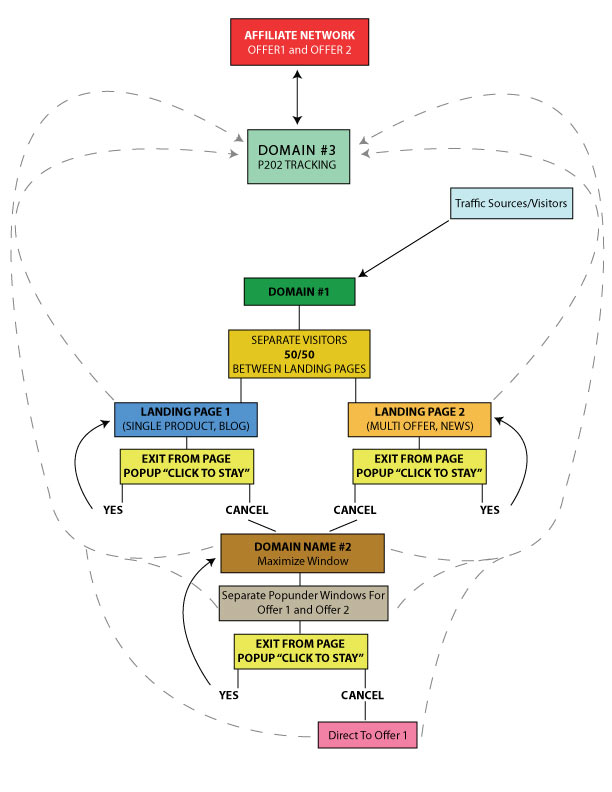 Now that I had my plan set in place, I went ahead and did a few more things;
Registered for new hosting at ZenSix – these guys are some of the best hosting out there, and you cannot beat their price. I just had to wait a few minutes for my order to be processed and then I was ready to throw up some landing pages
Created two landing pages, both completely different, for the offers I wanted to run.
Wrote about 2500 words of copy to go between each of the landing pages
Registered yet another domain with ZenSix for my P202 tracking
Installed P202 and uploaded the GEOIP database too
Setup a rotator so I can split test the two landing pages I created
Setup yet another domain, that I can direct people to once they leave my landing page
Created landing page for the second domain, and about 400 words of copy for it
Found some offers I liked from Convert2Media and inserted them into P202
Setup all my links on the landing pages, and on the exit page
Did some keyword research for my niche
Double checked everything was nofollow, and running on separate ip's.
Now that all of this is finished, I'm pretty much ready to drop some money on testing.
My plan is $500 over 5 days of testing, so hopefully by the end of the week I'll be turning a profit and can tweak to generate even more.
What changed? I'm not sure. I think I was just sick of doing SEO sites, waiting month and months for shit to happen, and MAYBE see a profit. With PPC, as much as it is a gamble, and you can't guarantee any sort of return, there's much more fun to be had because of all the data and tracking data you can (and should be) collecting. This doesn't mean I'll stop SEO, it's always nice to have multiple revenue streams, but it's definitely time for a change, and hopefully a larger ROI than I've been seeing with SEO.
So, what does all this come down to? Stop bitching, stop complaining, and just try shit out. Yes, I know you've probably heard this a million times before, but how many of you have actually done it? Want to make the internet monies?
JUST FUCKING DO IT.
Comments
Comment by Dean on 2009-09-18 06:58:29 -0500
Interesting posts you got there.
Just wanna ask why you'd need to make sure all the links are nofollow?
Cheers and thanks.
Comment by Matt G on 2009-09-18 17:16:16 -0500
Dean,
From what I've heard and read, using nofollow is good if you plan on using it as a LP, and for SEO. I Don't think it hurts anything either way, but if I'm wrong please let me know 🙂