Instead of writing some long and complicated post about what my experience at ASE 2009 was like, I thought I would present it in a simple diary format to make reading easier. I'll be following this post up with an overall summary of my experiences, this is meant more as a timeline of what my time was like and also as a travelogue for myself;
Saturday August 08 – 2009
Woke up and left for the Airport to catch my flight to Toronto. Don't use checked baggage wherever possible, shit can get lost fool!
Arrived around 1:30 pm then waited around at Pearson for 3 or so hours for the flight to La Guardia in New York.
Got into New York around 5:30PM, went straight to the hotel via cab.
Checked into the Warwick hotel with little hassle even though I used Gift Certificates to pay for the entire stay, I got these through the other company I run and did some beta testing for a large corporate antivirus software. I even had to perform multiple registrations with the gift certificates due to their TOS. Only thing that really sucked was like a $14 (CAD) per day wireless charge at the hotel. Usually the WIFI is free, but this is New York City I guess. I was on the 28th floor and had a view of 4th Avenue and the Hilton. Pretty nice for being "FREE"!
After checking in I Walked around a bit and got a coffee from Starbucks. I usually hate Starbucks, but I'm not familiar with "good" coffee shops in New York City.
Went and registered for the conference at the Hilton Hotel.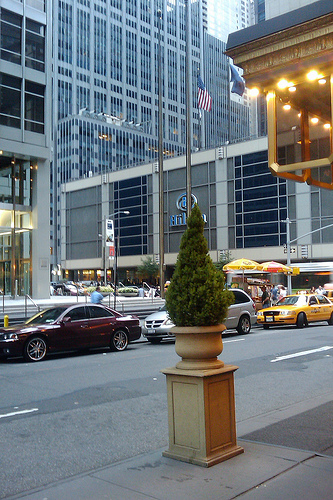 Walked around some more and got some pizza from Ray's pizza. This was the first of many visits.
Messaged Medici to meet up outside the London Hotel. Around 8:30 met up with Sitemap outside the London by chance while waiting for Medici. A few minutes later Medici showed up and then we went inside.
Got into a London Hotel penthouse party with Sybarite Elite (thanks again to Medici and Brandon) and sampled some rum and cokes and vodka red bulls. First time I had those, not bad. Met a bunch of affiliates at the party and mingled for a little while.
Went outside to hit up Ray's Pizza at like 2am with Sitemap and his buddy.
Stopped at the Donut Shop on the way back to the London at like 2:15am.
Then HustlinGrind, Pacman0r, Medici, IronLogik and I met up with Gigidawg at Bounce Night Club.
After partying for a bit we met up for Rays Pizza in the early AM.
We left and went back to Hilton and London to party a bit more.
Stumbled in around 6 or 7 am.
Sunday August 09 – 2009
Woke up around 11:30, most people were gone on the Copeac bus party and I was hella hung over so I went to get some coffee and then walked around a bit. There was a Caribbean parade going on so I watched that for a while and walked up about 20 blocks. Tourists eh?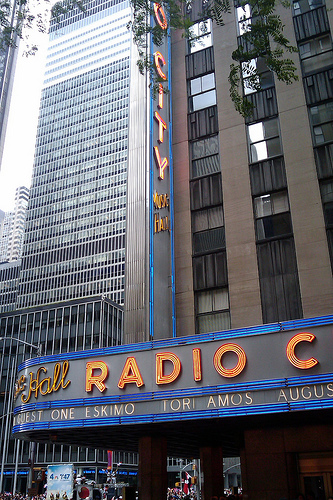 Then I went back to the Warwick Hotel and passed out for like 5 hours to recoup on some much needed sleep. After showering and watching like 30 minutes of TV I decided it was time to go out and do something.
I went for a walk like 35 blocks up Times square and down past it. The women in New York are amazing, and much friendlier than one would expect (stereotype?) them to be. Then returned back just in time to meet up with HustlinGrind, Gigidawg, Pacman0r and Medici outside the Hilton to get ready for the nights parties.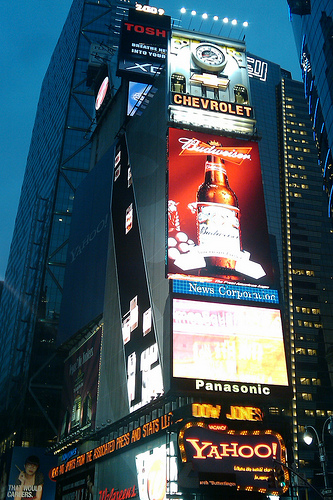 Before partying we went for more food from you guessed it — Rays Pizza.
Met up with IronLogik and his buddy from Toronto while getting pizza. Rays was a popular place for ASE 2009 it seems.
Then we went to Scores Gentlemen's Club for about an hour, got some drinks, met some affiliates and enjoyed the scenery.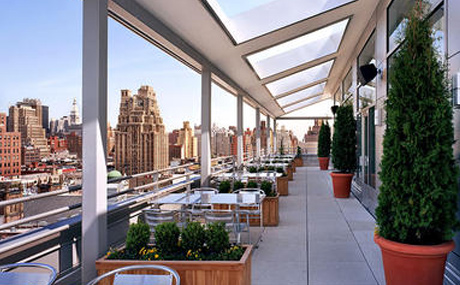 Then we left with Gigidawg and a couple other affiliates on our way to go to the rooftop club Plunge-Looftop Bar at Hotel Gansevoort. While there we met up with a bunch of affiliate managers like Geofferson (Thanks again for getting us in if you're reading!) from Advaliant/Media Trust, and other company owners and more affiliates, not to mention lots of hot new yorker girls. This party was awesome, and the views were even more spectacular (when it wasn't shielded in the near monsoon like rain storms). The bouncers were kind of dicks to us but it's possible we deserved it. Drinks were fun, meeting other affiliates was even better though. We stayed here for a number of hours to enjoy the networking and facilitation of alcohol consumption.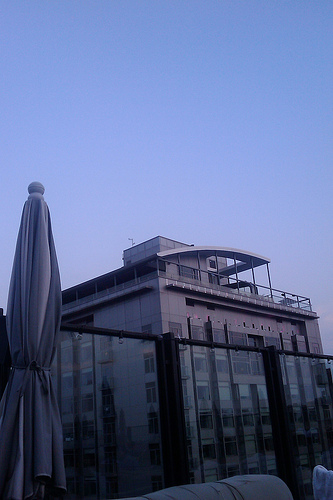 Then we left for Scores Gentlemen's Club again for like 20 minutes, we didn't know it was closing or that it'd be nearly dead inside.
We then left to head to Touch Night Club. Heard some great tunes, and met a number of affiliates and other people related to the industry here.
Around 5 or 6 we left to head back to our hotels to wind down and go to sleep.
Monday August 10 – 2009
Woke up at like 12:30, showered and was lazy for about 30 minutes trying to recoup from the night before. Took a quick shot of the "Verve" drink that was handed out at the summit, not the best tasting but definitely provided that much needed boost.
Then got up, and went out to have Starbucks Grande mocha with a double espresso shot, probably not the best plan after an energy drink, but definitely helped ready me for the day.
Met up with HustlinGrind outside the Hilton and went inside to tour the Exhibition Floor. Met with various networks and made a bunch of new contacts, and met up with a couple more affiliates too. I always love this part of conferences, the various methods employed by the companies to entice you to visit their booth and discuss their products is always interesting and usually quite creative, especially in this industry. This was no let down; though I'm told the Vegas floor is much larger. Some of the giveaways were very cool too – C2M Billy Mays t-shirts anyone?
Then we met up with Medici and Gigidawg and went back to his room at The London to chill for a bit, take some pictures out of his window because he had a great view, drink some water.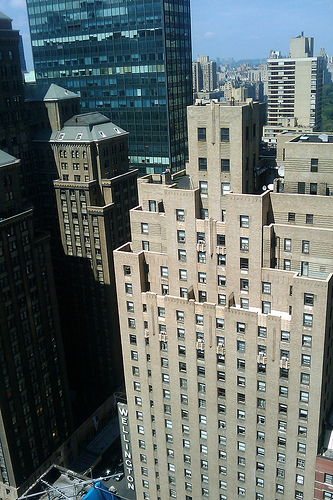 Then headed back to the conference floor meeting up with Pacman0r along the way. Visited some more booths and met with more affiliates, and even got an invite to the Click Booth invite only party that was happening that night.
Left the Summit to go get something to eat – yes, unfortunately more Rays Pizza.
On the way to the party, we were travelling a little bit of a distance from where we were to the club and the car ride was largely silent due to our debauchery the night before, and we were all kind of zoned out just enjoying the ride and sights, when suddenly from the back of the car, HustlinGrind yells out "WOW, LOOK AT THAT BITCH!". We all burst out laughing, including the cab driver. This has been one of our catch phrases ever since.
Then we left to go to the Media Trust party in the meat packing district at Club Soho in the White Room, and also hit up the wicked cool bar on the roof while we were there, the women up here were amazing and the vibe was great – except for one pushy employee who kept trying to kick us out because we weren't members, but we had our ways to navigate around his threats. Great party mingled and met some cool affiliates, many of them from Canada. I think once we were all talking and realized that like all 7 of us sitting at the table chilling were from various parts of Canada. Go Canadian Affiliate Marketers Go! We rotated between the Media Trust party, and the rooftop for a few hours and then took off.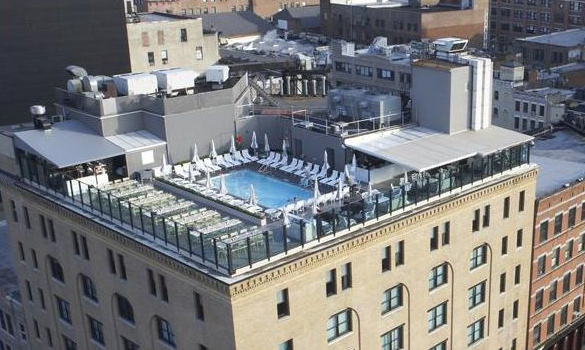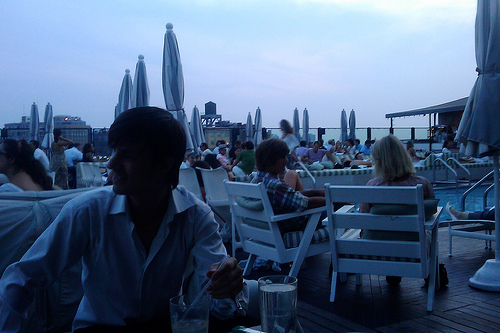 Next HustlinGrind, Ed, Medici and I headed over to the Click Booth party at some little pub not too far from Touch Night Club. Here we played beer pong trying to win $1000. Sadly we didn't win. We also met John Chow here. When he left, we knew it was time to bounce and head to the Biz Markie party at Touch Night Club.
This party was great for networking, even though everybody was drinking. We met a number of people here including TurboLapp and ShoeMoney and a shitton of affiliates and people involved in the industry. I think I picked up over 80 cards that night in a few hours. Biz Markie was a bit of a disappointment though, he was the headline of the evening and only did 1 song, and I heard he was paid $10k or $15k for the gig, that's pretty good for like 3 minutes if you ask me. I dropped my stupid phone, and it bounced not once, but twice, and then a third time right into HustlinGrind's drink. Killed my phone, even though I turned it right off and left it off till well into the next day after leaving it on the air conditioner for a long time in the hotel room. I now know I should have put it in a bag of rice. HustlinGrind was still able to make use of the drink so all was not lost.
Following this we left for Flash Dancers Gentlemen's Club, I was pretty tired and drunk so I decided to walk back to the hotel and got lost for about an hour, found my way back and some guy named Markus who started walking with me on my way back to the hotel decided he wanted to come in to use my toilet, which he did and then promptly left after telling me about his rap career, weird shit I probably never would have let him come into the hotel had I not had like 40 drinks that day, but whatever. Finally got to go to sleep, around 6:30 am.
Tuesday August 11 – 2009
Woke up today at 1pm to housekeeping coming into my room, and then coming in again telling me it was time to leave. I told them no I'm staying till the next day, and then I suddenly woke up and realized I was actually leaving today. Oh noez! The front desk called and inquired and I informed them I'm a dumbass and they waived the late checkout fee. I quickly showered, packed up and checked out around 2pm.
Went to Starbucks for a Coffee and Sandwich.
Then I met up with Medici outside the London hotel where some kiddies were waiting for Ashton Kutcher or the guy from Blink 182 or Neo, we're not sure, but apparently they were all staying there. We left to meet up with HustlinGrind and M0rtal in Central Park. Made our way around for a few hours, visiting the main fountain and lake and then walked back to the Hilton.
Chilled outside a bit and then I said bye and caught a cab back to the airport. Waited around for an extra 40 minutes cause of a delayed flight and then headed to Toronto.
Made it to Toronto, walked around a bit, and then did the self check in (love these things!). Found my gate after my ticket being mislabeled for a non-existent gate. Good thing customer service is open 24 hours and can correct these things.
On the way back to Ottawa I caught a crazy cold, which I believe was from some lady coughing up a storm on the plane. I felt my throat get itchy and then I spent the next 3 days in bed recuperating and hoping I didn't have H1N1 (the symptoms were certainly in line with the websites). I seem to be getting much better now so I'm ready to start layin shit down in terms of ideas and ventures discussed and thought of at Affiliate Summit.
Overall this was a great trip. For the experience, meeting all of the networks, exhibitors and other affiliates and exchanging tips, tricks and business cards was very valuable to me and my business. Thanks to Affiliate Summit for providing me a press pass to visit and report on the show, stay tuned for my next post for a final summary of the trip.