Incase you live under a rock, I'll let you in on a little secret about one of the coolest wordpress plugins available today for making monies online.
WordPress Review Plugin.
Yup, turn your wordpress site into a review site in a few minutes with this baby.
If you're already aware of the plugin or maybe even a current user you're probably already in the know about the latest release of the WordPress Review Plugin. This past week version 3.0 was released. This rendition of the plugin includes some pretty cool new features that I'll talk about later. But first some information about the plugins for anyone not familiar with it already.
What this plugin does, is it turns your WordPress sites into easy and highly customizable review sites in just a few minutes. I've been a user since the very first release and wow has it ever been impressing me every step of the way.
At first I was a little skeptical about the price that they were charging for the plugin, but once I realized that I had unlimited domain usage and the speed at which new releases and features were unleashed on us I don't think one can really go wrong.
In the beginning, this plugin overall wasn't very feature rich, but it worked and imported your data quite nicely, but it just wasn't super duper professional. With the latest release of 3.0, there's a number of new features and improved features that really make this a kickass plugin for automating review sites and creating income for a long time, all while delivering tangible and credible information to your site visitors.
This release brings full integration of Google Maps, scheduled and Cron importing of all your datafeeds or whatever it is you're importing for the site to review. There's also a thread on the members area of the forum where you can get customized star icons to show different types of images to your visitors depending on the niche of the site – cool!
So, what exactly have I been up to for the past couple days with this plugin? Well, first I wanted to test it out on a new site and install it from scratch. This was obviously very easy, and also was pleased to find out that 3.0.2 fixed the nasty issue of your license.txt being replaced. Thanks guys!
Installing on a new domain
I uploaded the plugin to my site, and then shamefully spent a couple days building a scraper to compliment the information the advertiser already provided for me in their datafeed. After I had my CSV file created with all my information in it, I just spent some time researching a theme for the site I was creating and then customizing it to my market. After that I just uploaded the CSV and I was ready to start building links.
Wait just a minute here. Lets look at that again, and put some times associated with it;
Register Domain and Point DNS – 5 minutes
Download Plugin – 30 Seconds
Create License for Site – 30 Seconds
Install WordPress and WFReview Plugin – 5 Minutes
Find Theme – ~30 Minutes
Scrape Data or Download Datafeed and organize – ~1hr – ~3hr
Theme Customizations – ~30 Minutes
Link Building – ~5 Minutes on Wickedfire
Submit to Google Sitemaps – 1 Minute
That, ladies and gentlemen is a complete site up and running in 2 hours and 17 minutes at the shorter end of things. Of course this wouldn't be including your market research and other things that "pop up" but still, it just goes to show how quick it can be to get this plugin rocking and ready to receive the internet monies for you and you're ready to move on to the next site. As you can probably guess, this is especially the case when you're dealing with data feeds.
Did I mention that the latest version of the plugin also lets you schedule imports from feeds, This means you can set it to update from a csv file that's dropped in place every few days or weeks to add new products, so your site could theoretically have an endless stream of reviewable products for the public to enjoy and purchase. Keeping the consumer happy, keeps you happy after all.
Upgrading WFReview
After getting that site finished, I thought I should try an update of the plugin. For this I decided to run it on one of my old local niche sites for business reviews. I was running the very first edition of the plugin on it, so very old. I figured I would have a tough time upgrading it and oh boy did I ever.
Yeah, I had to make 2 whole changes in my CSS file and re-import my CSV file which took a whole 5 minutes.
Gotta say guys, this was pretty impressive. Usually shit always breaks, and it takes forever for a major upgrade, not to mention across two whole product versions. Props!
You'll see here some of the differences between the two plugins and what's changed. I took a couple screenshots just before I upgraded the plugin.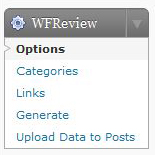 And now, look at the new menu.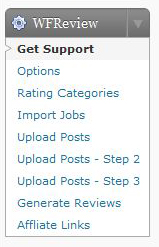 As you can see there's a bunch more options, and it's laid out a little more sequentially than it was before. Again, the little things are what really matters for plugins like this. Keeping things easy, streamlined and efficient is the best way to go.
And, as mentioned the sought after scheduled importing of files has arrived. Check this out.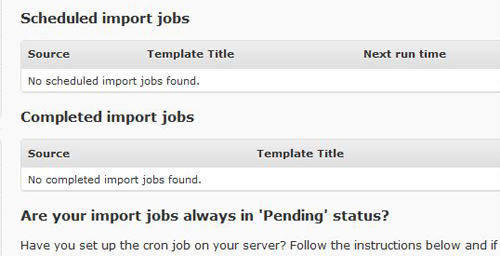 Pretty cool eh?
Overall WFReview Thoughts
As you can tell from my post, I'm pretty enthusiastic about this plugin and what it can handle for you. Way back when I first bought this, I was able to get about 10 sites up for a local niche I'm trying to dominate and it only took me like a week including building two scrapers to get the content I required for the site. How cool is that. Back then, I probably would have had a lot more to put into this list as a negative aspect of the plugin.
Today, there's not much I can complain about. It would be nice if when replacing your data, you could have an option to keep comments left by site visitors, and if a kickass theme came with this plugin out of the box, but I'm sure that's in the works for feature releases.
I'm also pretty stoked about the forthcoming release of the Featured Review plugin by the same guys who make the wordpress review plugin. I think these two things combined will be pardon the french, fucking awesome.
To buy this plugin, you should really use this link because I told you so. /waves jedi hand/
No Bullshit Review, 8/10, only because it's missing a rad theme.
Comments
Comment by Gary on 2009-10-10 16:36:07 -0500
Never heard of that one, gonna check it out. sounds pretty cool.